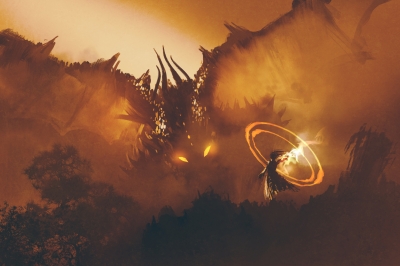 Few genres have readerships as large and as dedicated as fantasy. It is popular for a number of reasons, including the fact that the only limit to a fantasy book is the imagination of the writer. But the many possibilities of the fantasy genre are also one of its greatest weaknesses. Some writers end up relying on clichés and other too-familiar tropes to create their fantasy world and the characters that inhabit it.
Here are three common problems in fantasy writing and how some writers set themselves apart by avoiding them.
Predictable Storylines
Your readers shouldn't be able to predict what's going to happen next because they've seen the same storylines play out in other fantasy series. While it is important to draw inspiration from the most popular or best books in the genre, look for unique ways to move the plot forward. One of the reasons for the success of George R.R. Martin's Game of Thrones series is the unpredictability of the storyline. Major characters are killed unexpectedly, weddings turn into bloodbaths, and murderers are rewarded with a crown. Unpredictable plots keep readers engaged. This is not to say that you should start killing your characters off without reason, but you should consider how to add twists and turns to your storyline.
Clichéd Characters
There are a lot of clichéd characters in fantasy writing. We all know the poor country boy who discovers that he is destined for greatness when he receives a magical weapon that he must use to defeat a powerful enemy. These kinds of heroes and the journeys they take are too familiar to be interesting in new books. And since fantasy tends to be character driven, it is extremely important to make sure your characters are well rounded and original. Terry Pratchett's Discworld series is a good example of how to create something fresh from worn out ideas and common tropes. Pratchett turns clichés on their heads to create amusing, original characters. Consider not just what types of characters fantasy readers will be familiar with, but how to make those characters feel fresh.
Unoriginal World-Building
Elves, wizards, magic, demons, dragons, and the other staples of fantasy writing are a necessary part of building the world in which the narrative unfolds, but they're also so familiar that they can easily become boring. The key isn't to avoid these kinds of nouns, but to redefine them for the purposes of your story. Think of all the versions of magic that exist in the fantasy genre. There's the magic that the witches and wizards at Hogwarts learn in J.K. Rowling's Harry Potter series, which is completely different from the magic used in the novels of writers like Philip Pullman, Cornelia Funke, and Ursula Le Guin. These authors all use the concept of magic to build their fantasy worlds, but they use it in distinctive ways. Try putting a different spin on the elements of your fantasy world so that you can develop your canon without resorting to overly tired tropes.
If you're looking for feedback on your book, check out NWA Publishing's manuscript evaluation and content editing services.
Image courtesy of grandfailure at FreeDigitalPhotos.net